Shibucho Egbert Moustache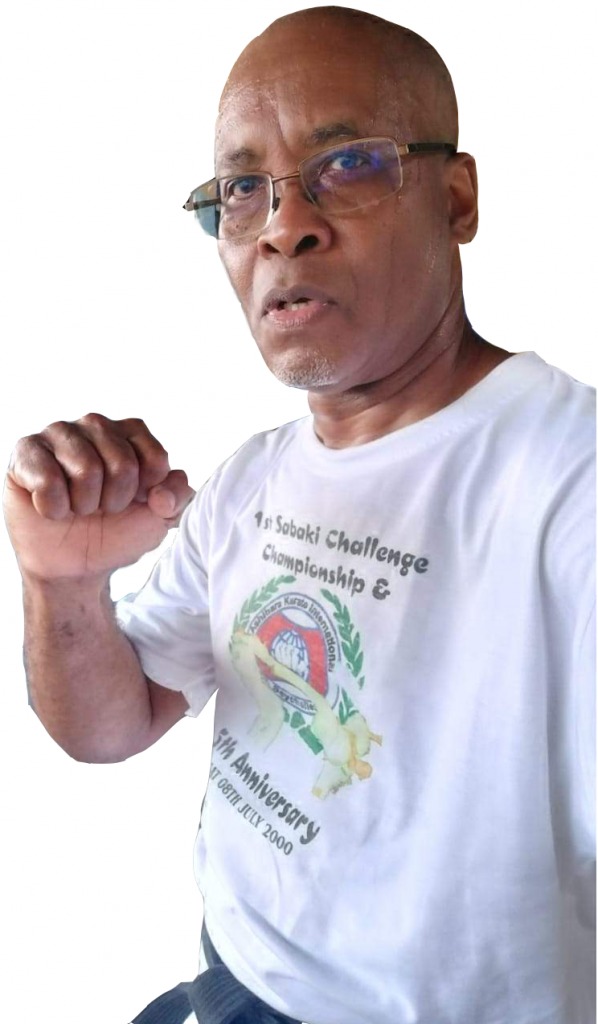 Shihan Egbert is one of Seychelles most experienced karateka, and has been involved with Karate in Seychelles from its earliest days. He is one of less than a handful of Seychellois to obtain rank in 4 different styles of karate; Kyokushin (1st Dan), Ryobukai (2nd Dan), Goju Ryu (1st Dan) & Ashihara Karate in which he currently holds a 5th dan black belt.
He has trained extensively under Shihan A.K. Ismail (South Africa), Kaicho Kiyoshi Yamazaki (USA) and Kaicho Hoosain Narker (South Africa). He even had time to train Moo Yea Do, Shotokan and Judo before converting to Ashihara Karate in 1995.
​HISTORY & EXPERIENCE :
1978 – Started training in Judo.
1980 – Started training in Karate – with Philip Moustache and others in Kime Ryu.
​1983 – Met and trained with Henry Naiken, a well known martial artist who headed his own school called Aikendo.
1985 – Restarted with Philip Moustache. Became a founder member when the school joined the Ryobukai Karate do. Shihan Saito from Japan came to teach Ryobukai and I tested and achieved the brown belt 1st kyu.
​1986 – Philip Moustache, myself and two others converted to Kyokushin Karate. In that same year, I was promoted to Shodan by Shihan A.K. Ismail of South Africa, the FIRST Seychellois to test and obtain

a black belt

in the

Kyokushin

Karate style in the Seychelles.
​1987-1993 – Left for studies to California, USA. During that period trained with Sensei Kiyoshi Yamazaki (9th Dan) at his Anaheim dojo. Also did Moo Yea Do with Tiger Yang, a 9th Dan Actor at his Fullerton Headquarters. I also spent time training with the Shotokan and Full Contact clubs at the California State University of Fullerton.
​1993 – Returned to Seychelles as a Nidan in Ryobukai Karate-Do. Opened my own dojo under the Ryobukai banner and joined the Seychelles Karate Federation.
1994 – opened the first ever karate dojo on La Digue Island.
1995 – Competed in the First All Africa Knock Down Karate Championships as part of the (Seychelles Kyokushin team) in Cape Town, South Africa. Whilst in South Africa, met with Hoosain Narker and after discussion was impressed and decided to join Ashihara Karate. Later that same year, returned to South Africa with a group of students for a two weeks intensive training course at the Honbu dojo.
​1996 – Invited Kaicho Narker to Seychelles to conduct a gasshuku and grading.
​1997 – Elected Chairman of the Seychelles Karate Federation. Invited Xavier Inglis, a black belt student from South Africa, who spent two months in the Seychelles assisting with the development of Ashihara Karate.
​1998 – Manager of the Seychelles All Styles team that placed Second in Germany. Invited Stanley Ncgobo, a black belt student from South Africa, who spent two months in the Seychelles assisting with the development of Ashihara Karate
1999 – tested for 3rd Dan after an intensive training program at AKI Honbu in Cape Town, South Africa.
2000 – made history on La Digue by arranging the first ever Karate championship by hosting the national Ashihara Karate Sabaki Championship on the island.
2001 – Invited Kaicho Narker to Seychelles to conduct a gasshuku and grading. Kaicho Narker was accompanied by senior Honbu black belt Shihan Gakiem Hayzer.
Between 1998 and 2007 – trained and prepared members for various national and international championships.
2007 – 2018 – worked in Arusha, Tanzania where he 'converted' some Taekwondo students to Ashihara Karate and trained with them.
2010 – Obtained the 4th Dan ranking.
2017 – arranged for Kaicho Narker & Senpai Rabia Narker to visit Seychelles and conduct a gasshuku on La Digue.
2019 – Elected to the Executive Committee of the Seychelles Karate Federation (SKF). Visited South Africa for a refresher course.
2020 – to date: Elected Vice-Chairman of the Seychelles Karate Federation. He is still training and participating in on-line karate seminars organized by Ashihara Karate International and other international martial organizations because of COVID-19 and public health restrictions.
2021 – Invited Kaicho Narker to Seychelles to conduct a gasshuku and grading. Kaicho was accompanied by Honbu (Headquarters) black belt Shidoin Francious Williams. Obtained the 5th Dan ranking. Accompanied Kaicho back to South Africa for a one week intensive training in Ashihara Karate and Goju Ryu Karate after which he successfully tested and obtained a 1st Dan in Goju Ryu Karate.
2022 – travelled as manager with a large team to attend the Honbu Summer Camp in Cape Town. The team also participated in the Sabaki Invitational championships against participants from South Africa, Zimbabwe, Botswana and Malawi.
2023- Elected as the Manager for the SKF team to the Indian Ocean Islands Games in July/August. Visits the AKI Honbu for training during April.
Please see https://ashiharaseychelles.org/photo-gallery/eighties/ for pictures of Shibucho Egbert & training partner Phillip Moustache in the early days of karate in the Seychelles.
In Shibucho's Moustache's ideology, ranking plays a secondary role in training with the development of mind, body and spirit of greater importance than just merely the chasing rank.
1978 – Started training Judo
1980 – Started training Karate
1986 – 1st Dan
1993 – 2nd Dan
1999 – 3rd Dan
2010 – 4th Dan
2021 – 5th Dan
From 1978 had gained vast experience in his martial arts journey through
* Judo – Kime Ryu – Moo Yea Do – Ryobukai Karate – Kyokushin Karate – Goju Ryu Karate – Ashihara Karate *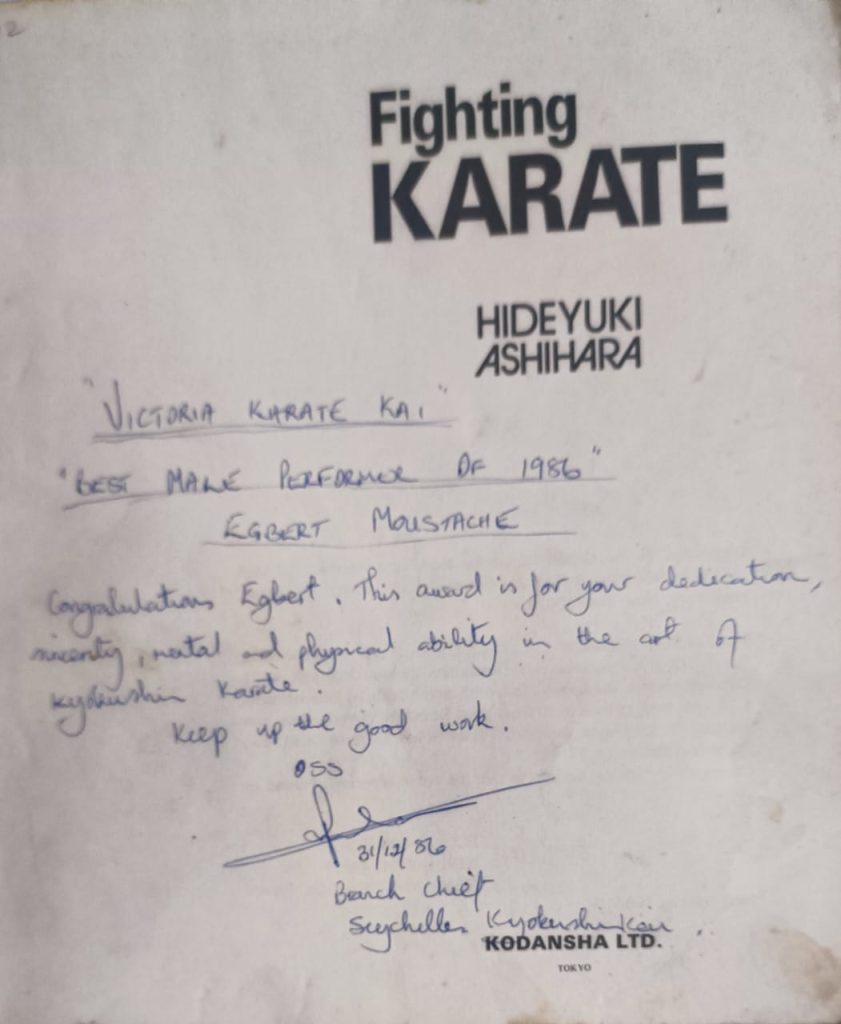 Whilst Shihan Egbert switched to Ashihara Karate only in 1995, his interest in the Sabaki concepts of the style was actually piqued when he was presented with the book "Fighting Karate" by the late founder of the style, Kancho Hideyuki Ashihara by no other than Shihan Phillip Moustache in 1986 for being the "Best Male Performer" in Kyokushin Karate.
Then during his stay in the USA – he visited an Ashihara dojo, but it was only in 1995 after training firsthand in the revolutionary techniques of the style with Kaicho Narker, that he immediately committed himself to changing.
** To be updated